Preparing Your Home to Sell
Properly prepping your house to put on the real estate market is a vital step in increasing your chances of getting a good offer on your home. However, there is a fine line between making your home feel comfortable while also de-personalizing it enough so that potential buyer can visualize themselves living in your home.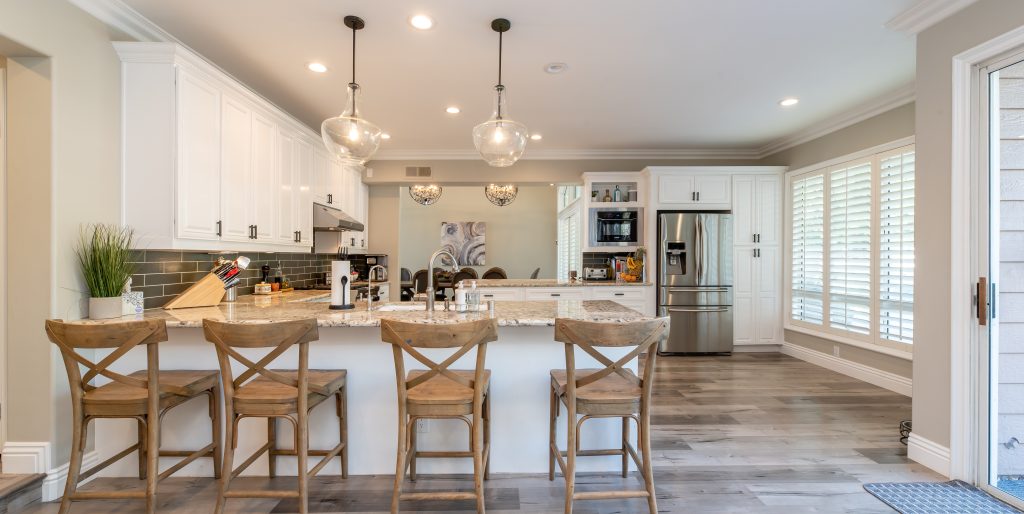 You want to show your house in the best light possible, literally. To create depth and make your home look as large as possible to potential buyers, start by making sure your home is well-lit in all rooms. Make sure your curtains are open and all the light bulbs in your lighting fixtures are working.
Along with having good lighting, you have to de clutter your home. This can't be emphasized enough. Even if you feel you've put enough things away or have taken many of your possessions to an off-site storage facility, you may have to do more. Your real estate agent should be able to objectively tell you if you've de cluttered to the degree necessary to enhance the positive aspects of your home.
Be ruthless about cleaning your home when you're getting ready to put it on the real estate market. Remove any unpleasant odors before a showing – especially pet odors. HOWEVER, make sure you don't leave behind a strong chemical smell, like bleach. It may lead a potential buyer to think you are actually trying to cover up a major problem. Do whatever is necessary to remove the cause of the odor – don't just mask it.
Some other key things to do when cleaning and de cluttering your home include the following:
Take pictures of yourself and your children, including their names, off walls and other places. Remove any large family portraits and replace them with mirrors, if possible. Mirrors also help create more depth in your home.
Put all valuables away or remove completely from your property if possible, including items that have a valuable autograph on them.
Remove prescription drugs from your medicine cabinets or anywhere else you have them stored. Completely remove from your property if possible.
Put toys and gaming systems away.
Remove pets from the property if you are having an open house and when your real estate agent has scheduled showings.
Do your best to remove any evidence of your pets – i.e., pet toys, pet hair on furniture, litter pans, feces in the yard, pet odors, etc.
Make sure your kitchen and bathroom are as absolutely clean as possible. Clean your stove and oven and take all pictures and magnets off your refrigerator. Put away all small appliances to make sure you enhance your counter space.
Remove anything that is broken or dirty inside and outside of your house.
Clean the dead bugs out of any inside and outside light fixtures.
Make sure the water pressure in your sinks and tubs is what it should be and that your toilets flush well. Hire a handyman if necessary to ensure that every aspect of your home is in good working order.
In addition to de cluttering and cleaning your home, you can "stage" your house for showings. There are professional home stagers and an abundance of online information about staging your house to sell it more quickly and get a higher price.
Staging is meant to maximize your home's positive features while minimizing the negative ones. It's also meant to create an inviting mood that makes the potential buyer feel at home. A poorly staged home or one that isn't staged at all can be distracting.
Remove furniture that is too big for a given room or rearrange the furniture to maximize the space in each room
Repaint any rooms that have dark colors on the walls with lighter, more neutral colors. A consultant at a paint store can help you choose the right colors.
The old adage that "first impressions are everything" applies to your home. Making sure the outside of your house is impeccable is just as important as getting the inside ready. The outside appearance of your home sets the tone for how the rest of the showing will go.
The following are some basic things to do to create the best curb appeal for your house:
Prune or remove any over-grown or dead trees and bushes.
Clean up your flower beds of old plants, leaves, etc.
Keep your lawn edged, cut and watered regularly.
Wash the inside and the outside of your windows.
During the winter months, keep walks cleared of snow and ice.
During spring and summer months, add a few brightly colored annuals, perhaps in pots, near your front entrance.
Check the foundation, steps, walkways, walls and patios for cracks and crumbling.
Inspect doors and windows for peeling paint.
Clean and align gutters.
Inspect and clean the chimney.
Repair and replace loose or damaged roof shingles.
Repair and repaint loose siding and caulking.
Reseal an asphalt driveway.
Keep your garage door closed.
Apply a fresh coat of paint to the front door.